About Us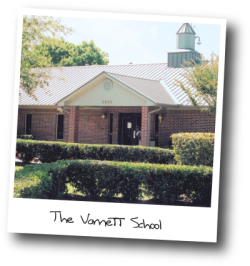 A GROWING number of Houstonians are recognizing the strengths of attending a charter school, where the benefits are unmistakably clear.
THE VARNETT SCHOOL offers superior learning opportunities, combining experienced, certified teachers, progressive educational theory and practice, and state-of-the-art technology with the advantages of a diverse school population.
ENTHUSIASM was high in 1984 when Annette and Alsie Cluff established THE VARNETT SCHOOL in an effort to provide a hands-on, quality education program for their son. The promise of better teachers, a smaller student-to-teacher ratio and a more well-rounded education resonated all around. Today, THE VARNETT SCHOOL boasts one of the highest student populations for an elementary charter school in Houston. Serving students in grade levels Pre-K through fifth, THE VARNETT SCHOOL strives to provide a strong basis in traditional academics, as well as instill in its students an awareness of and appreciation for the diversity among people living in one of the most international cities in America.
At THE VARNETT SCHOOL, we believe every child is a unique and special individual who has the ability to learn. It is our responsibility to facilitate and nurture the development of every child's maximum potential - academically, physically, socially and emotionally. We are committed to providing opportunities to assist students in making self-directed, realistic and responsible decisions when analyzing problems that may confront them in our multi-cultural, ever-changing world.
ADVANTAGES
A diverse student population is the hallmark of THE VARNETT SCHOOL. Our students reflect the diverse residents of the Houston community. It is this unique offering, combined with an exceptional curriculum and staff, that helps in developing the physical, mental, emotional and social performance of each student.
At THE VARNETT SCHOOL, we offer several advantages that enhance the performance of our students, including:
Accredited by the Texas Education Agency (TEA)
Accredited by the Southern Association of Colleges and Schools (SACS)
Traditional academic program with emphasis on math and reading
Smaller learning environment
Gifted/Talented program offered
Special Education program offered
English as a Second Language (ESL) program offered
Tutoring and homework assistance available after school
School breakfast and lunch programs offered
Air-conditioned school bus transportation
Field trips and travel trips provided for all grade levels
FREE! - NO TUITION!